Spectrum is a LED juggling show that combines circus, LED juggling, acrobatics & dance
About this LED Juggling Show:
Featuring the talent of some of Europe's top LED performers (including ex Cirque du Soleil), Spectrum is a LED juggling show full of wonder. 
This french circus show explores new LED/Pixel technologies in a warm atmosphere. The show is set to an energetic soundtrack which is a far cry from the cliché, electro soundtracks of many LED shows.
Spectrum is available in two formats: either as a 6 minute high-impact gala-act or as a theatrical show with a duration of up to 35 minutes.  
The show may be presented with between 1 and 8 artists.
Our LED juggling shows are created by ex Cirque du Soleil performer Srikanta Barefoot & his classically trained partner Jen Barefoot. 
The two are pioneers in what has come to be termed dance-based fire dance; a choreographic & dance-based approach which emphasizes full body movement, musicality & stage presence.  The resulting hybrid performance is a blend of dance, theater and LED juggling designed to connect and inspire audiences of all kinds.  
The gala-act version of the LED show Spectrum has been presented at numerous corporate event shows in France, Belgium, Switzerland and Luxembourg.  The long version of Spectrum has been presented at city events & festivals across France.  
Our team of experienced  LED jugglers enjoy sharing their passion with audiences young and old. 
Reveal your company's logo or the name of your event on our pixel poi!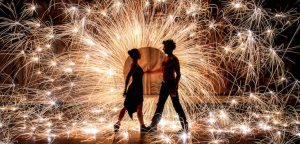 A grand pyrotechnic finale with pyro staffs & pyro fans is available for the ultimate wow effect. 
The use of indoor stage gerbs permit a risk-free pyrotechnic finale to take place within theaters & clubs.  
1 – 8 Artists / 6 minutes (gala act) or up to 35 minutes (theatrical show) / Interior & Exterior
Featured in this LED circus show : LED performers & LED jugglers with a wide variety of LED juggling props.
Available options:
Hand to hand performance
Personalised logo reveal during the show (pixel poi logo reveal)
Ideal stage dimensions:
     Solo & duo: 6m depth x 8m width x 5m (min) height
     3-8 artists: 8 m depth x 10 m width x 6 m height
Ideal security dimensions:
     Solo & duo: 8m depth x 10m width x 5m (min) height
      3-8 artists: 12 m depth x 16 m width x 6 m height
Type of event:
     Gala act: Corporate event shows, private event shows, special event shows, award shows
     Theatrical show: City events, festivals of light, Christmas shows, wedding entertainment shows & theater shows