***As of Feb 19 2019, the retreat is full. Join us next time in April 2020!***
Get ready for an adventure!
Join a fun and diverse group for daily poi & staff classes, theatrical games, fire/led jams and more with Vojta, Jen, Kevin & ex Cirque du Soleil Fire Dancer & Coach, Srikanta Barefoot. The week-long Intermediate/ Advanced-Level Poi &/ or Staff Retreat in Sommières combines a full immersion in dance-based fire dance with natural and cultural expeditions.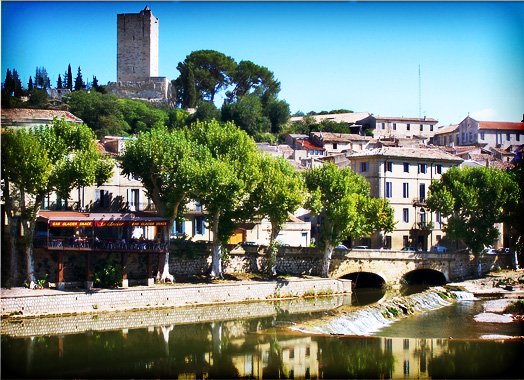 Sommières is a commune in the Gard department in southern France, located at the border with the Hérault department It lies 22 km from Nîmes, 28 km from Montpellier. Wikipedia
"It was great fun.  Best holiday ever!"
Matt (Stromboli – 2015)
"Thank you for a great event and all your energy you spent in my improving.  I enjoyed every single minute and wish I could stay much longer."
Suzanna (Stromboli – 2015)
"I went last year and this was such an amazing time! Be prepared to work hard and learn tons! Srikanta is a fantastic teacher!"
Jennifer  (Costa Rica – 2012)
Vojta is a Czech poi pioneer who excels at combining poi tech tricks with dance.  With a style and approach all his own, he has invented some innovative new poi techniques.
Vojta has shared his poi enthusiasm far and wide and taught more than a hundred workshops worldwide. In addition, he's filmed many inspirational poi videos, including the world's most watched poi video "The Future Is Now". Check out Vojta's videos and personal website to learn more about this talented Artist.
Srikanta was the first Contemporary Fire Dancer featured by the Cirque du Soleil (2007-2010), performing over 700 shows using fire poi, fire staff, double fire staff & double fire swords. He has 15 years of experience fire dancing including his position of Fire Dancing Coach and Lead Fire Dancer for Cirque Du Soleil.  Srikanta has taught poi & staff workshops at locations worldwide since 2003 and has created an Instructional Video Series called Dancing with the Fire Staff.  Click here for more info & to purchase.
Jen has been an integral part of Srikanta's teaching since 2011.  As a teacher with a background in classic dance, she continues to help create and refine both their dance-based style of fire dance and the way it's taught.  The two combine poi & staff technique with martial arts, acrobatics & dance in their shows as well as in their instructional classes.
Kevin (bio coming soon!)
Who is welcome to attend?
This Retreat is catered to those whom aspire to take their technique and act choreography a step further.  The poi and staff classes are intermediate/ advanced level and there are specific prerequisites (below).  The retreat is open to hobbyists as well as aspiring & professional artists.
The emphasis of the retreat is two-fold: improving technique with staff and/or poi AND building or refining choreography.
Instruction is given in English while French will be widely spoken as well.
The accommodation which is provided as part of the retreat package is on the Kedez compound.  The rooms are on the first story with the dance studios and kitchen below.  There are even a couple of trailers outside which can sleep a few people.  Its a great communal space and a fun creative atmosphere.
All participants will be required to share a room with 2-4 people per room (we'll place you with someone of the same sex, if you prefer or with your friends or partner).   Alternatively, you may choose to find your own accommodation elsewhere.
6 nights of accommodation at an Artistic Retreat Space. The week will consist of a 90 minute staff and/or poi workshop + open studio space every morning and a 2 hour assisted play/ experiment/ jam time every evening, M-F. The evening playtime will consist of different activities from guided individual play & experimentation to group games and activities. Focus will be on incorporating the mornings' technical knowledge into play & performance, experimenting with movement elements, theatrical presentation & stage presence. The second hour of the evening session falls at dusk and flows into an impromptu glow & fire jam. Students can continue experimenting & playing on their own with unlit props or try out their new moves on fire!
Also included is a trip to the temple-ruin-like Carrier du Bon Temps to explore and jam, plus some built in down time to hit the river and to explore the village of Sommieres. Organic vegetarian meals can be booked (lunch and/or dinner) at 9eu per meal.
On Thursday we'll have a fire jam at the Carrier and be filming student promos (for those interested in creating a fire or led promo of their act).
Instructional classes are held within 2 spacious studios on the Kedez compound. The studios are available almost around the clock for those who want to continue training or creating their acts.
Workshop Content & Prerequisites
Please do your best to understand the pre-requisites to ensure that the level of instruction is appropriate for you.  To enrol in the intermediate or advanced staff curriculum, please see the prerequisites for Staff Levels 2 & 3 respectively.  
TYPICAL RETREAT CONCEPTS:
STAFF:
Stage Presence and Character Building
Choreography and Act Building
Creative and Dramatic Choices- dare!
Maximizing effect: How to get a response from your public
Optimizing your training
Improvisation- Freedom of Movement/ Expression
Bringing out your own style
Advanced Fueling and Fire Safety Techniques
Research techniques in act creation
Creation Tips Technical help- music editing, etc.
Dancing with the unforseen- what to do when things don't go as planned
POI:
– increasing our ability to learn fast by practising coordination, hand independence
– beautifying moves that you already can do (also individually)
– incorporating our body into the motion
– contrast moves, transitions between different planes, crosspoints
– anti-spin based moves (flowers, CAPs, wall plane & wheel plane hybrids and variations, 3Ds, cateyes)
– pirouettes, tracers, negative space
– under the legs, jumps
– hyperloops (orbitals, learning to exit from orbital, infinite hyperloops, looped-turning and plane changes)
– wraps (spiral wraps, body wraps)
– stalls, transitions between all the moves
– advanced butterfly variations
– behind the back moves
– one handed spinning & triple poi basics (from one-handed weaves to one-handed anti-spin patterns)
* note that we probably won't be able to do all of this due to lack of time and the curriculum will be adapted to the skill level of the workshops participants. Individual instruction is possible.
Once we've received your registration form and payment, we'll be sending you a Student Orientation Guide with a ton of practical information to help you plan well and get the most out of your experience.  There is a lot of essential info in this guide including tips on getting to and from Sommières, what to pack, etc.
Vojta, Srikanta & Kevin offer a special discounted rate for workshop participants interested in booking private one-on-one sessions. If you are interested in learning triple staffs, swords or double swords, please contact Srikanta or Vojta in advance to book your private session. It's best to schedule these sessions in advance to guarantee availability.  You will also be able to sign up for free one-on-one sessions with any of the 4 instructors during the week with the specific intent of workshopping your own act creation/ personal choreography.
INSTRUCTIONS FOR APPLICATION*:
***As of Feb 19 2019, the retreat is full. Join us next time in April 2020!***
Please complete the Workshop Application Form.
After clicking on "submit", you will be led to the retreat payment page where you may pay the 200eu deposit and complete your reservation.
If submitted correctly, we will send you a confirmation email within 72 hours.
*Please read the Fusion Arts Payment and Cancellation Policy for all applications.
Please contact us with any questions or for more information.
TENTATIVE DAILY SCHEDULE:
Sunday April 14th
6:30-8:00pm Student Orientation & Welcome/ Games + Apéro!
8pm Dinner (Organic vegetarian meals are available for 9eu/ meal)
Monday – Friday
8:30-10:00 am: Poi or Staff/ Open Studio (alternating)
10:15 am-11:45 am: Staff or Poi/ Open Studio (alternating)
8:30-11:45am:  Open Studio in Studio A (for those not participating in both poi & staff)
12pm Lunch (Organic vegetarian meals are available for 9eu/ meal)
11:45 am – 6:30 pm: Free Time + Open Studio Space for all
6:30-8:30 pm: Assisted play & experimentation time.  Choreography and Theatrical Workshops. Glow and fire jams.
8:30pm Dinner (Organic vegetarian meals are available for 9eu/ meal)
*In addition to this action-packed daily routine, the group sets out to explore the village, the river and the temple-ruin-like Carrier du Bon Temps.
Monday April 15
13h30-15h Group Hike to the Château of Sommières (Optional but awesome!)
6:30-8:30pm Instructor Presentations (yes, we're performing for you!)/ Theatrical Games + Performance Concepts Discussion + Jam/ Act Building
Tuesday April 16
6-7pm Student Presentations (Optional)/ Discussion
7-9:30pm Fire Jam at the Carrier du Bon Temps
Wednesday April 17
6:30-8:30pm Student Presentations (Optional)/ Discussion + Jam/ Act Building
Thursday April 18
6pm Dinner
7-10pm Fire Act Presentation, Jam and filming at Carrier du Bon Temps (Optional but awesome!)
Friday April 19
6:30pm We'll have a party/ Jam at the Kedez!!!
Saturday April 20
Morning: Check out the Saturday Morning Market in the village and gear up for…
12pm Farewell Picnic on the banks of the river
PROGRAM START & END TIMES
The 2019 Poi & Staff Retreat runs from 6:30pm on Sunday April 14th to 13pm on Saturday April 20th.  The farewell lunch on Saturday is optional and just for fun.  There are no activities planned on this day except packing up and saying goodbye.
***As of Feb 19 2019, the retreat is full. Join us next time in April 2020!***
Early Bird: Register before January 15
750eu Poi & Staff
600eu Poi or Staff
45eu/ lunches Monday-Friday (9eu per meal)
54eu/ dinners Sunday- Friday (9eu per meal)
Register After January 15:
850eu Poi & Staff
700eu Poi or Staff
45eu/ lunches Monday-Friday (9eu per meal)
54eu/ dinners Sunday- Friday (9eu per meal)