FIREFLY is a poetic & engaging fire and LED circus show
About this Fire & LED Circus Show:
Featuring the talent of some of Europe's top fire & LED performers (including ex Cirque du Soleil), Firefly is a fire & LED circus show full of wonder. This circus show features never-before-seen fire & flame effects, ending in a pyro finale for the ultimate wow effect- a great alternative to fireworks shows!
Since its creation, the fire & LED show Firefly has been performed at city events & festivals across France. Our team of experienced fire & LED jugglers enjoy sharing their passion with audiences young and old.
Our fire & LED circus shows are created by ex Cirque du Soleil fire performer Srikanta Barefoot & his classically trained partner Jen Barefoot. 
The two are pioneers in what has come to be termed dance-based fire dance; a choreographic & dance-based approach which emphasizes full body movement, musicality & stage presence.  The resulting hybrid performance is a blend of dance, theater and fire manipulation designed to connect and inspire audiences of all kinds.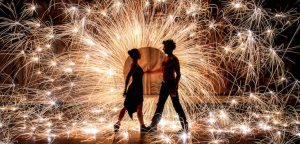 In addition to the standard pyro finale with pyro poi, a grand pyrotechnic finale with pyro staffs & pyro fans is available for the ultimate wow effect. 
The use of indoor stage gerbs permit a risk-free pyrotechnic finale to take place within theaters & clubs.  
Reveal your company's logo or the name of your event on our pixel poi!
1 – 6 Artists / 12 – 35 minutes / Interior & Exterior
Featured in this fire & LED show : Fire performers, LED performers, fire jugglers, LED jugglers, fire dancers & pyro juggling finale with a wide variety of fire, pyro & LED juggling props.
Available options:
Personalised logo reveal during the show (pixel poi logo reveal)
Indoor stage gerbs
Ideal stage dimensions: 8 m depth x 10 m width x 6 m height
Ideal security dimensions: 12 m depth x 16 m width x 6 m height
Type of event: City events, festivals, Christmas markets & street shows