A LED juggling show with rivalry, seduction, play & over 7000 LEDS!
About this LED juggling show:
Bagatelle is a LED juggling show which combines LED juggling, acting & LED dance. Created & performed by Jen & Srikanta Barefoot (ex Cirque du Soleil), the story of a charged meeting, flirtation, confusion & cooperation give context to the LED juggling and dance techniques.  The result is an uplifting & visually stunning LED juggling act which touches audiences on an emotional level. 
Bagatelle has been performed at numerous private & corporate events including corporate galas, weddings & televised award ceremonies including the Globe Soccer Awards in Dubai among other events in Europe & the Middle East.
Bagatelle is available in two formats: either a 6:30 minute high-impact gala-act or an 18 minute theatrical show.
Reveal your company's logo or the name of your event on our pixel poi!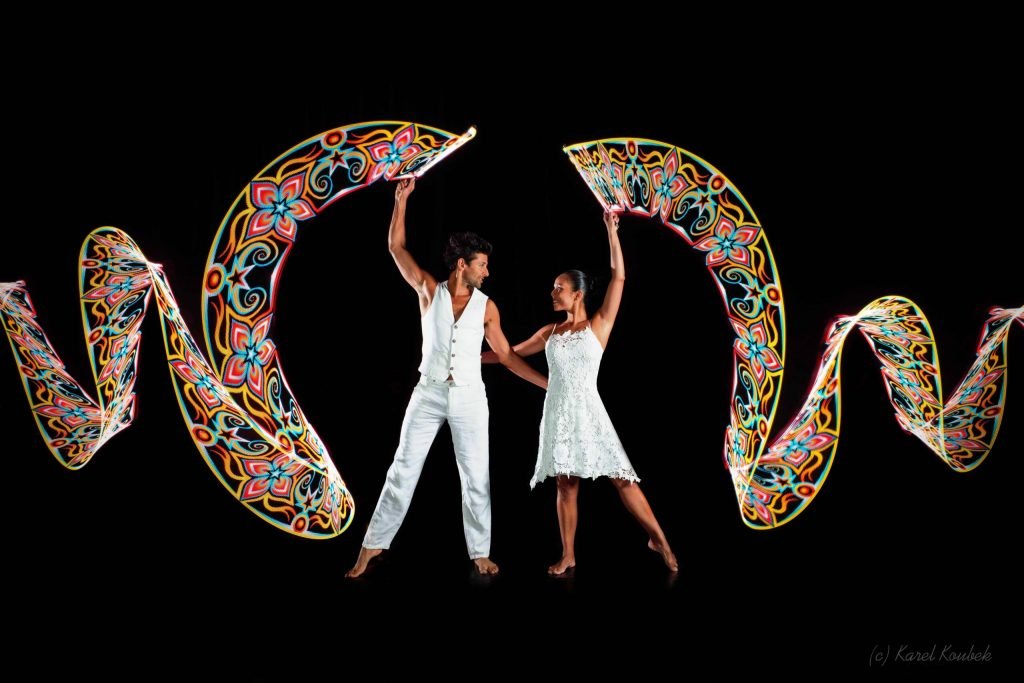 In addition to the standard, 6-minute LED juggling show, a grand finale version of the act is available which includes 1 minute and 30 seconds of pixel poi logo reveal and 10 custom images.  This is a unique and dynamic way for companies to reveal multiple logos, their statistics for the previous year or motivational messages or concepts at annual meetings.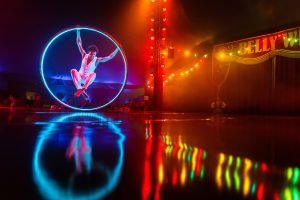 This LED juggling act is often booked along with Arabesque, Fusion Arts' LED cyr wheel act.  This way clients enjoy two unique and complimentary LED circus acts performed by an ex Cirque du Soleil Artist while saving on transportation & accommodation fees.  
2 Artists / 6:30 or 18 minutes / Exterior & Interior
Featured in this LED juggling show :
  LED circus act with LED juggling, LED hula hoop, pixel poi, LED cube, LED pyramid & pixel staff. A wider variety of LED juggling props are featured in the theatrical version of the show.
Available Options:
Personalised logo reveal during the LED show (pixel poi logo reveal) Grande Finale Pixel Poi Logo Reveal (+ 1:30 of show & 10 custom images)
Ideal stage dimension: 
6m depth x 8m width x 5m (min) height
Ideal security dimensions : 
8m depth x 10m width x 5m (min) height
Type of event:
Gala act: Corporate event shows, private event shows, special event shows, award shows
Theatrical show: City events, festivals of light, Christmas shows, wedding entertainment shows & theater shows