A playful & visually stunning LED juggling show!
About this LED juggling show:
Bagatelle is a LED juggling show which combines LED juggling, acting & LED dance. Created & performed by Jen & Srikanta Barefoot (ex Cirque du Soleil), the story of a charged meeting, flirtation, confusion & cooperation give context to the LED juggling and dance techniques.  The result is an uplifting & visually stunning LED juggling act which touches audiences on an emotional level. 
Bagatelle has been performed at numerous private & corporate events including corporate galas, weddings & televised award ceremonies including the Globe Soccer Awards in Dubai among other events in Europe & the Middle East.
Bagatelle is available in two formats: either a 6 minute high-impact gala-act or a 20 minute theatrical show.  
Reveal your company's logo or the name of your event on our pixel poi!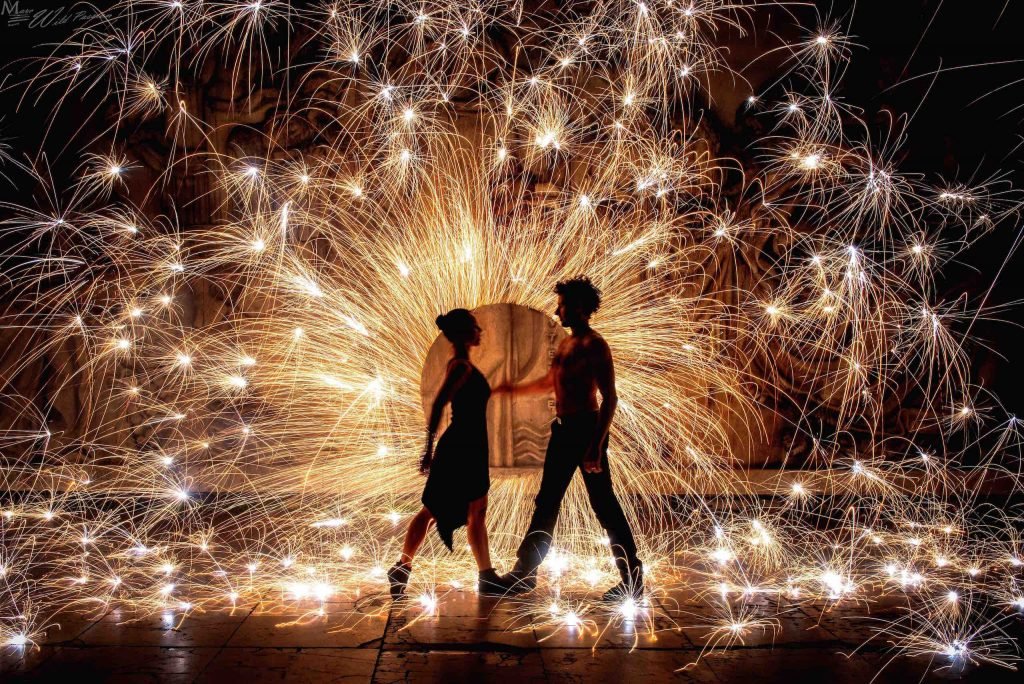 Add a pyrotechnic juggling finale for the ultimate wow effect!  The use of indoor stage gerbs permit a risk-free pyrotechnic finale to take place within theaters & clubs as well as at outdoor fire-prone areas. 
Grande Final Logo Reveal: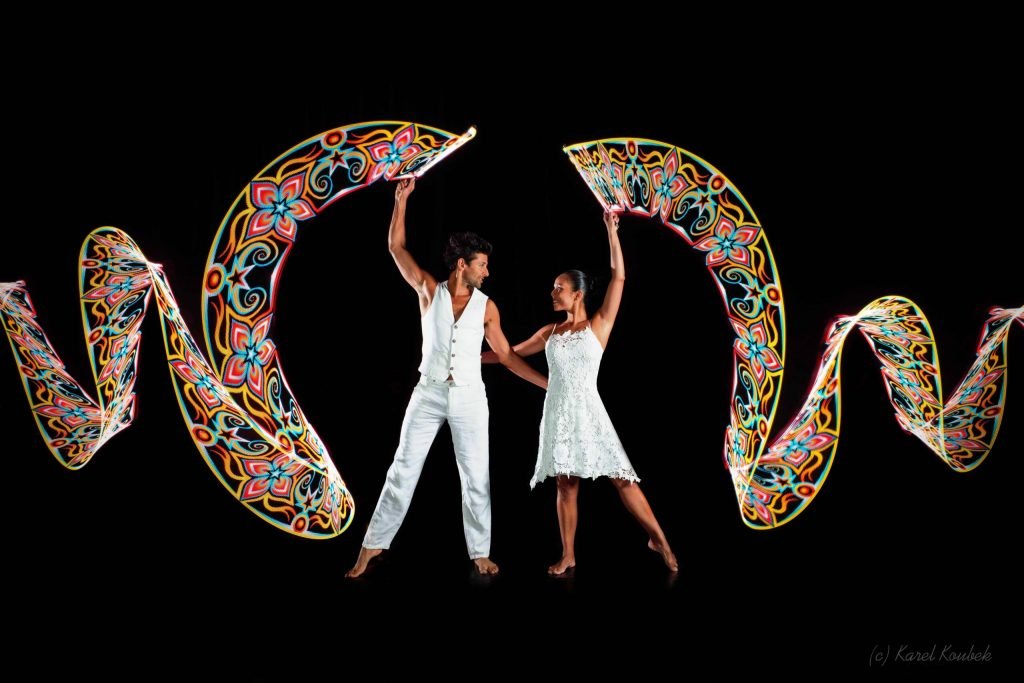 In addition to the standard, 6-minute LED juggling show, a grand finale version of the act is available which includes 1 minute and 30 seconds of pixel poi logo reveal and 10 custom images.  This is a unique and dynamic way for companies to reveal multiple logos, their statistics for the previous year or motivational messages or concepts at annual meetings.  For wedding celebrations, images can include images of the wedding couple or any combination of images and special phrases.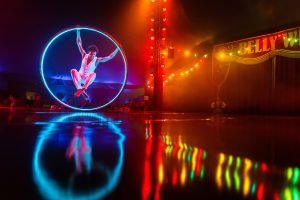 For gala events, Bagatelle is often booked along with Arabesque, Fusion Arts' LED cyr wheel act. This way clients enjoy two unique LED circus acts performed by an ex Cirque du Soleil Artist while saving on transportation & accommodation fees.
For the theatrical version of the show, the LED cyr wheel can also be incorporated to add an acrobatic and visually stunning wow effect & to prolong the duration of the show.
2 Artists / 6 or 20 minutes / Exterior & Interior
Featured in the 20 minute version of the show :  LED Buugeng, LED hula hoop, LED skirt, LED square, LED cube, LED pyramid, pixel staffs & pixel poi.
Featured in the 6 minute version of the show :  We recommend Buugeng & hula hoops followed by LED shapes (cube & pyramid) with pixel staffs for the finale.  Multiple formats are available and we are able to incorporate any desired elements from the 20 minute show (for example the LED skirt works very well at gala events).  The 20 minute show can also be broken up to create up to three 5-6 minute acts.  
Available Options:
Personalised logo reveal during the LED show (pixel poi logo reveal)
LED cyr wheel performance
Grande Finale Pixel Poi Logo Reveal (+ 1:30 of show & 10 custom images)
Grande Final Pyro: using indoor stage gerbs
Ideal stage dimension: 6m depth x 8m width x 5m (min) height
Ideal security dimensions : 8m depth x 10m width x 5m (min) height
Type of event:
Gala act: Corporate event shows, private event shows, special event shows, award shows
Theatrical show: City events, festivals of light, Christmas shows, wedding entertainment shows & theater shows