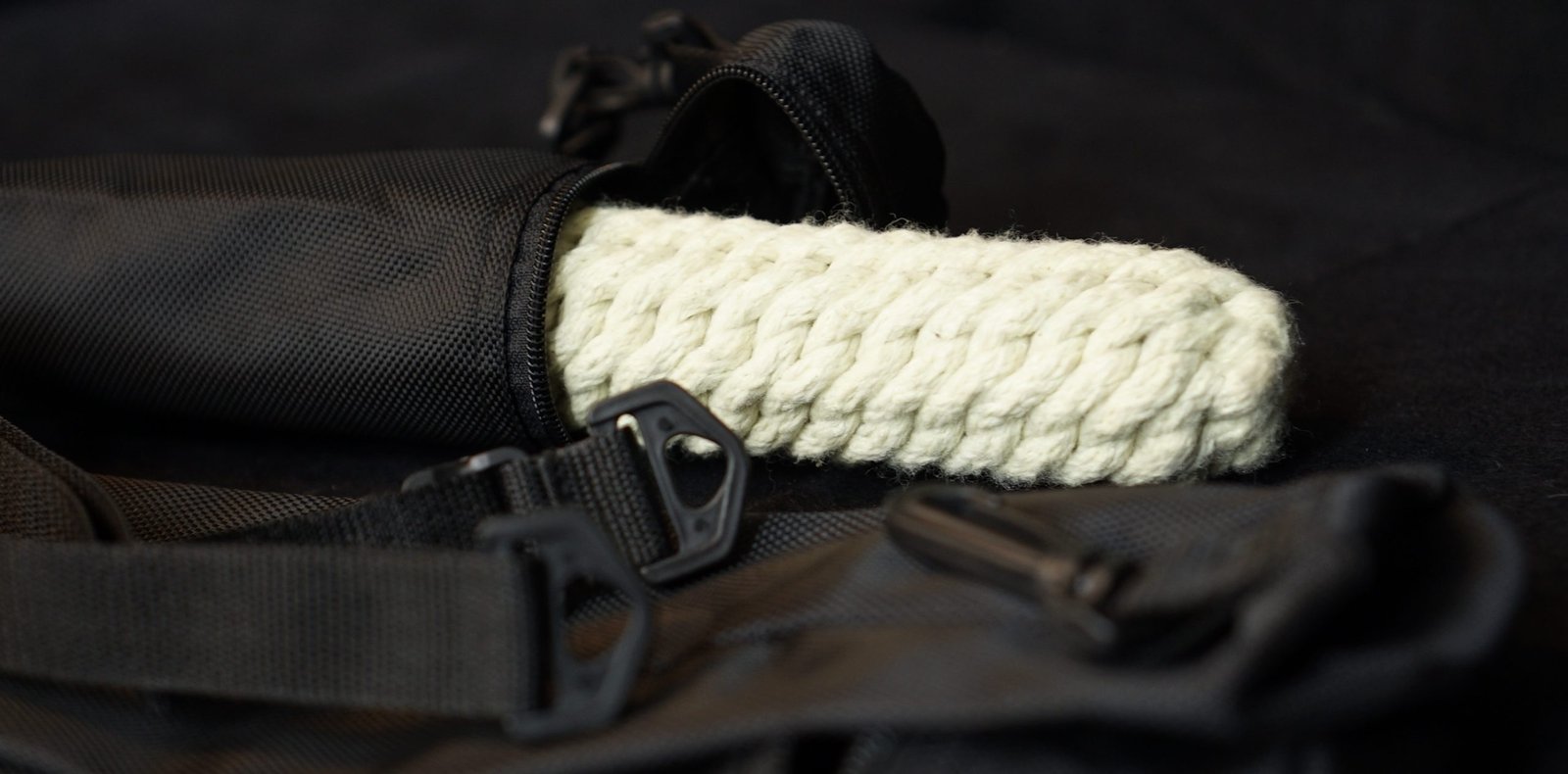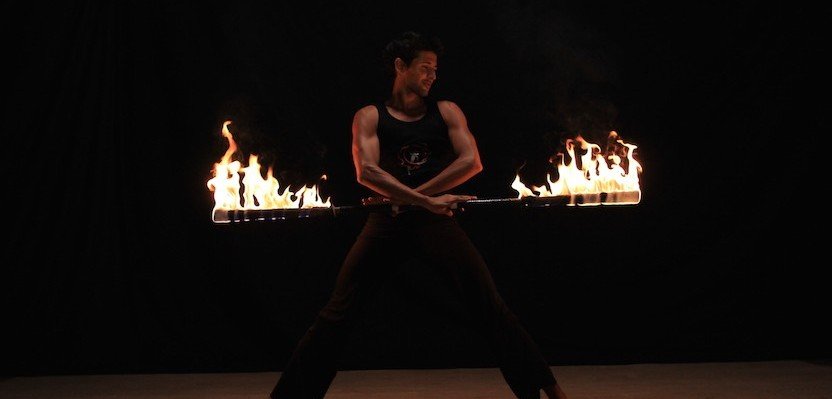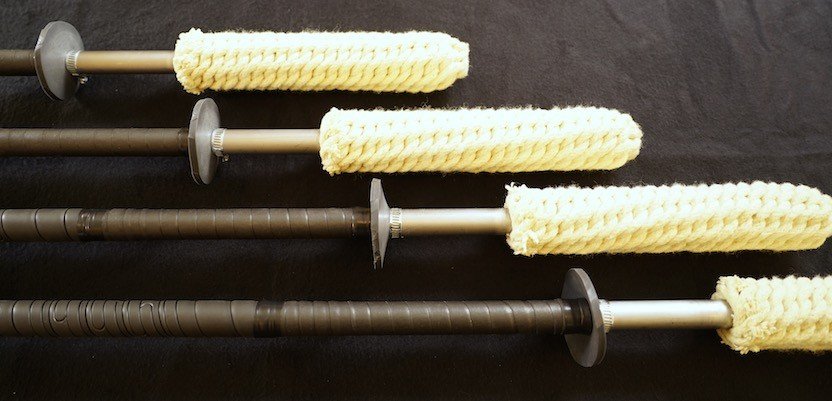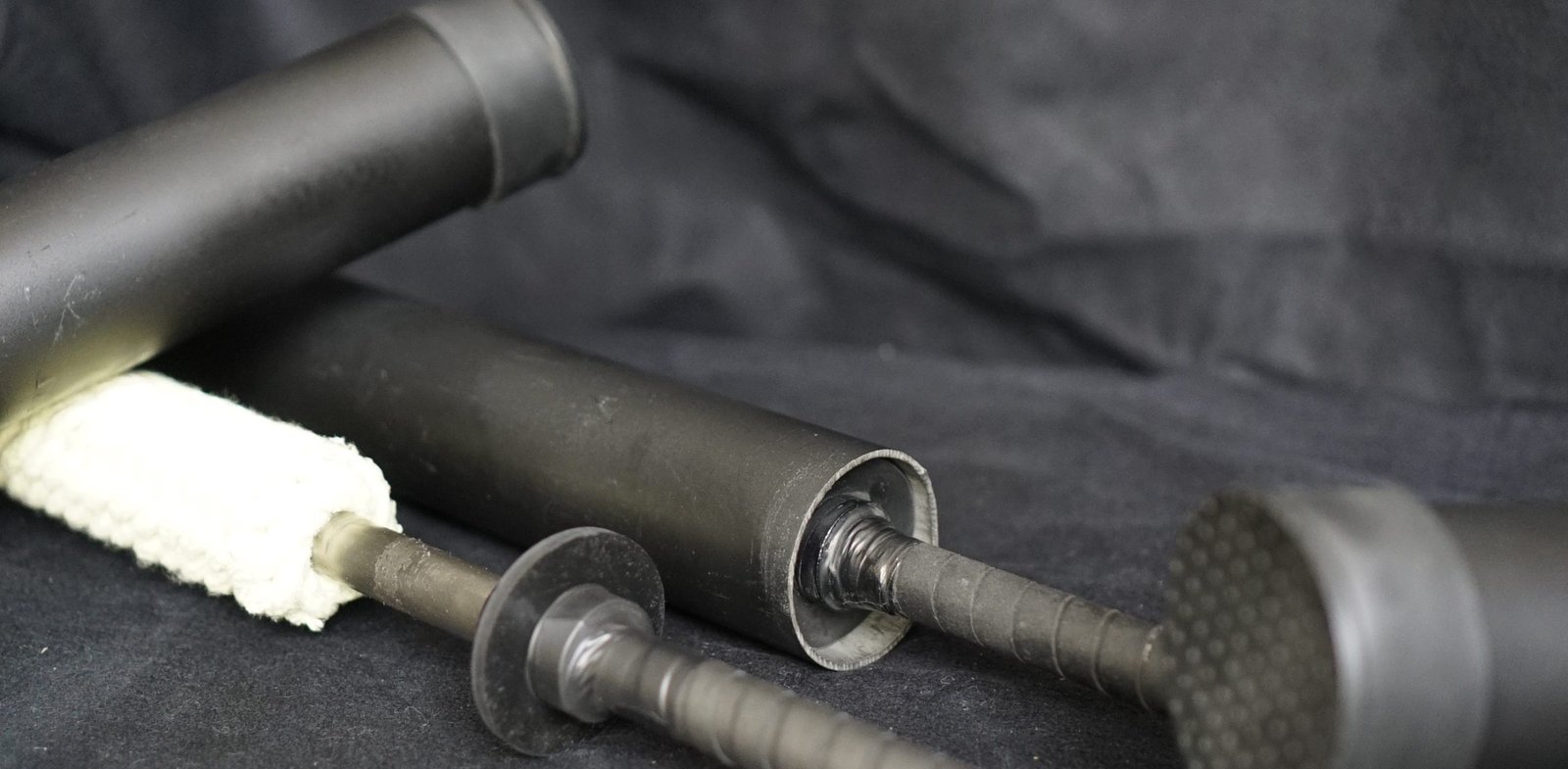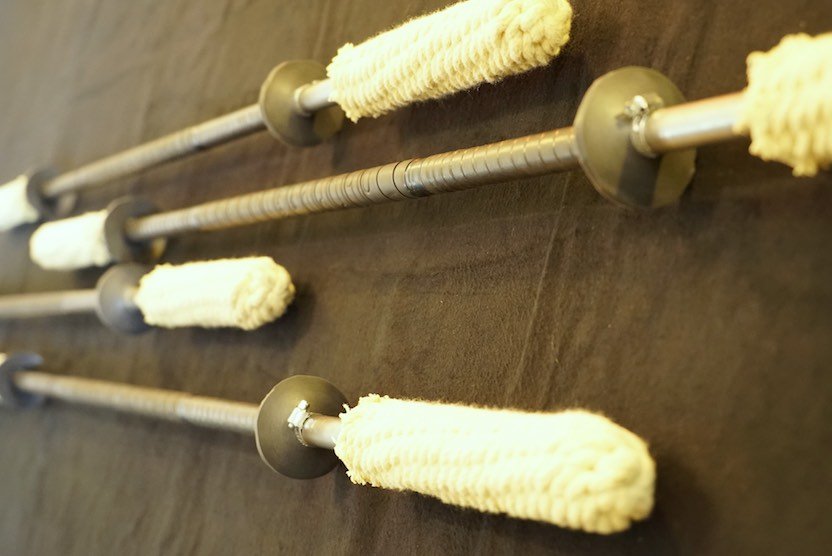 Custom-built pro fire staffs
Fusion Arts Pro Fire Staffs are light-weight and durable fire staffs designed by professionals for professionals. After 10 years of design modification and improvement (including 3 years with the Cirque du Soleil) these staffs are now finally available to the public.
With 15 years experience building my own props and 10 years testing & perfecting this particular design, I'm thrilled to make these available to my students and other aspiring and pro fire dancers! They are by far the most durable, light-weight fire staffs available anywhere.
The style of staff manipulation I've developed and teach simply doesn't work with the majority of staffs on the market because they are either too heavy or made from bendable aluminium and don't spin straight (making fast spinning, contact & tosses problematic). My first set of titanium staffs revolutionised my performance. Suddenly I wasn't fighting against the weight of the heavy metal tubing & unnecessary hardware found in typical fire staff designs. Direction changes, fast spinning, tosses…everything became easy, effortless and enjoyable, allowing me to focus on grace and fluidity in my movements.
My staff design has evolved with me. I added light-weight flame guards along the tube length to stop the flame from crawling up and burning my hands during stops and slow, theatrical movements. Most recently, I've begun Isis wicking my staffs, resulting in increased burn time without additional weight. I'm excited to see others using these staffs as I'm sure they will revolutionise the way you spin, just as they have for me.
I've done well over 1,000 shows with my original pair of titanium staffs (+? hours practice time) and after 10 years, they are still functioning beautifully.
"Quite honestly, the best staff I have ever used" – Lee Carnwell (UK)
"This staff is simply amazing! Not only am I discovering new contact moves, but it allows me to increase my speed with the moves I already know.  Feels good!"    – Ben (France)
"Last Saturday I set the beast on fire and I must say it's really really nice. It's a real pleasure to play with the staff and I can't wait to learn some acrobatic moves and jumps from you ;-)"   -Fackelphilipp (Germany)
" I love my new staff!!! Thank you so much for making my very first fire spinning experience truly perfect. It felt so balanced and comfortable in my hands, and even with only 2 weeks of playing with a broomstick I felt in control of the staff. I know there is so much potential for growth and am excited to be starting my journey with fire and dance this way 🙂 "   -Alex (USA)
Our Pro Fire Staffs retail for 185€-275€ depending upon the desired wick diameter & amount of wick on each end (10cm-30cm). The base material costs account for over half of the retail cost (high-grade titanium tubes). We've spared no expense and selected only the best materials. We've opted against offering cheaper options which we wouldn't use for our own shows (cheaper tubes, classic wick, less expensive grip, etc). The product is specifically geared towards professionals and aspiring professionals ready to take their performance to the next level.  Detailed info on pricing may be found in the order form below.
Our custom-made staff extinguishers (pictured above) provide a safe & easy way to extinguish your staff.  They reassure the audience by demonstrating your control of the fire, allow you to transition between props more quickly & protect wicks from lighting back up accidentally (by coming into contact with sparks from pyro or fire from other props).
The silicone flame guard & extinguisher create an airtight seal, extinguishing the flame instantly.  We will size your extinguishers accordingly to help avoid extra weight in your kit.   25€ per pair.
Average tariffs for staff shipments are 16€ within France, 26€ within  Europe & 45€ outside of Europe.
All orders are custom. Once you've submitted the form, we'll contact you within 3 business days to confirm your desired specifications and supply you with an estimated delivery date. Once these are confirmed, we'll send you an invoice. Delivery time is typically less than 2 weeks depending upon our current performance & teaching schedule.
Please complete the order form with as much info as possible. If you would like advice on how to choose the right dimensions for you, check out Srikanta's blog on the subject.  It's also useful to have a peak at our past product specs which we post regularly on facebook.  If you are still unsure about any specifications, have questions or comments, please include a message.
-10 %   Order 2 or more props with the exact same dimensions
PRO FIRE STAFF ORDER FORM:
INSTRUCTIONAL VIDEO SERIES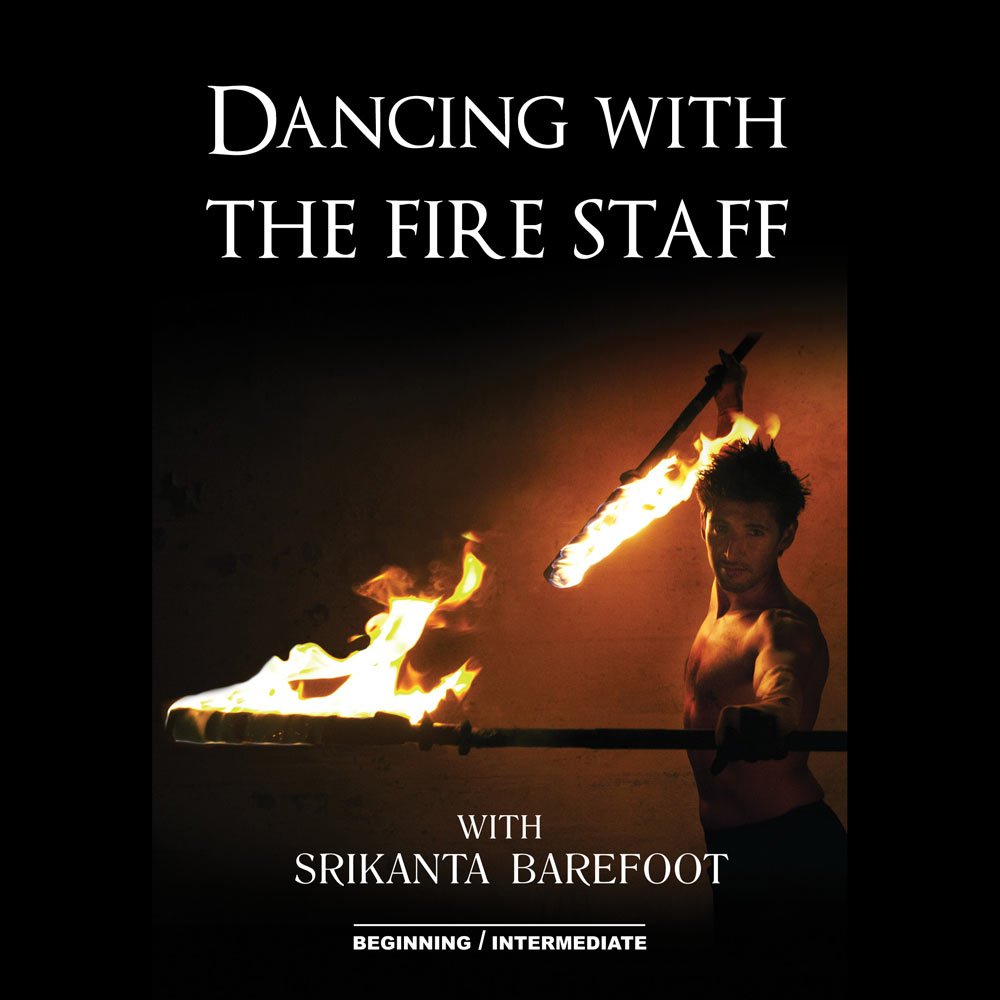 Learn to fire dance with ex Cirque du Soleil Fire Dancer Srikanta Barefoot. Over 165 minutes of video! Instruction, inspiration and fun! Learn More…
5% DISCOUNT ON PYROTERRA LIGHTTOYS: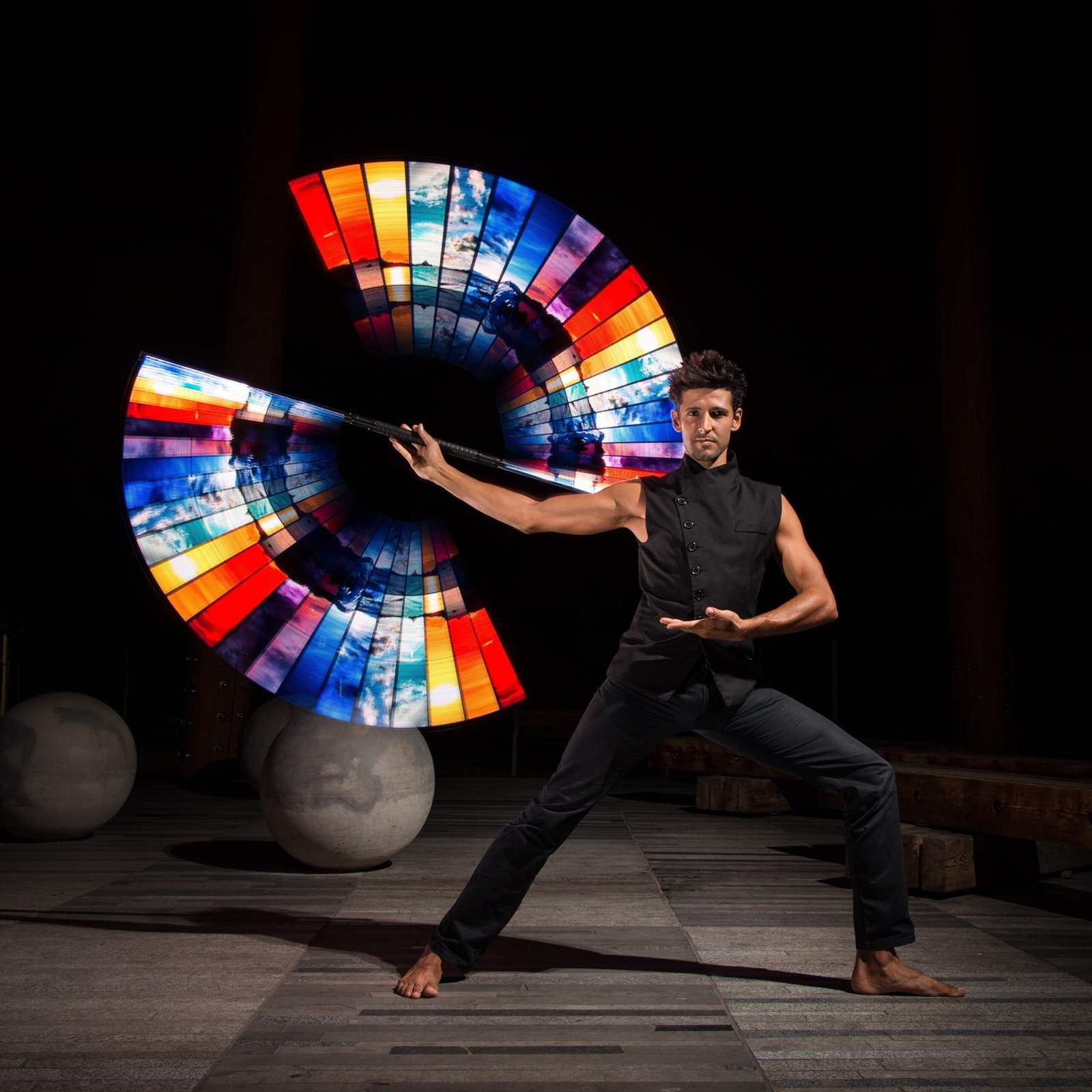 We highly recommend Lighttoys LED Props & Visual Poi. For a 5% discount, visit the Lighttoys website & use our lighttoys promo code: fusionartsandlighttoysrullezz