Noces de feu is a duo fire juggling act; "A fiery pas de deux "
About this fire juggling act:
Noces de Feu is a dance-based fire juggling act featuring ex Cirque du Soleil fire performer Srikanta Barefoot and his classically trained partner Jen Barefoot.  The fire juggling act takes audiences on a journey through a poetically charged meeting, flirtatious play and an electrifying celebration (pyrotechnic finale). 
This fire juggling act is choreographed to a colourful and evocative soundtrack and is a perfect fit for gala events, city events and wedding entertainment shows alike. 
Noces de feu is available in two formats: either a 6:30-9 minute high-impact gala act or an 18-20 minute theatrical show.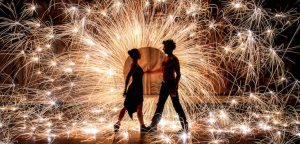 In addition to the standard pyro finale with pyro poi, a grand pyrotechnic finale with pyro staffs & pyro fans is available for the ultimate wow effect. 
The use of indoor stage gerbs permit a risk-free pyrotechnic finale to take place within theaters & clubs.  
This fire circus act is often booked along with Eclipse, Fusion Arts' fire Cyr wheel act.  This way clients enjoy two unique fire circus acts performed by an ex Cirque du Soleil Artist while saving on transportation & accommodation fees.  
2 Artists / 
6:30 ou 9:00 (gala act); 18 ou 20 minutes (theatrical show)
 / Exterior & Interior
Featured in this fire juggling act: Fire juggling, Fire staffs, Fire ropes with sparkle effects, Fire swords with large flame effect, Pyrotechnic juggling.  A wider variety of fire juggling props are featured in the theatrical version of the show.
Available Options: wow effect; Grand pyrotechnic finale with pyro fans Indoor stage gerbs
Ideal stage dimensions:
 6m depth x 8m width x 6m height
Ideal security dimensions:
 8m depth x 12m width x 6m height
Type of event:
Gala act: Corporate event shows, private event shows, special event shows, award shows
Theatrical show: City events, festivals of light, Christmas shows, wedding entertainment shows & theater shows
OUR OTHER FIRE CIRCUS ACTS: