What is contemporary fire dance?
Contemporary fire dance combines fire, dance and any number of theater, circus, juggling and object manipulation principles and techniques to create hybrid performances. It is a specialized kind of contemporary fire performance in which dance is a required element.
In contemporary fire dance, dance principles are of paramount importance (ie. the movement of the body in a rhythmic way, usually to music and within a given space, for the purpose of expressing an idea or emotion, releasing energy, or simply taking delight in the movement itself.– britannica).  Object manipulation techniques (juggling, tossing, spinning & twirling) are combined with dance techniques to create performances in which the dancer is as much or greater a focal point than the objects which he or she manipulates; the body is as implicated as the object.
Contemporary fire dance performances seek to blend dance and object manipulation techniques in a harmonious and connected way.  The relationship between the dancer and the object is a source of inspiration for discovering movements which are complementary to one another (for example certain object manipulation techniques may help a dancer to turn or jump, by transferring momentum generated from the prop to the body).  Such inquiries are of primary interest to contemporary fire dancers.
Special focus may be given to stage presence, atmosphere, choreography, musicality and energetic flow and evolution throughout a piece.  As with fire dance (defined below), contemporary fire dance may be performed as a powerful impulse (improvisation) or as skillfully executed choreography.
What distinguishes contemporary fire dance from fire dance?
Contemporary fire dance differs from fire dance in its use of theater, circus and object manipulation principles and techniques to create hybrid performances. In this way it is akin to the relationship between dance, theater, circus and their contemporary counterparts.
For more on fire dance terminology, check out the blog The need to clarify fire performance terminology.
Contemporary Fire Dance Workshops & Retreats
FEBRUARY 19-25 2023
POI, STAFF & THE FUNDAMENTALS OF CONTEMPORARY FIRE DANCE

Learn, Play, Discover & Unwind! The Fire Dance & Flow Retreat on the beautiful Hawaiian island of Oahu combines poi &
Read More »
INSTRUCTIONAL VIDEO SERIES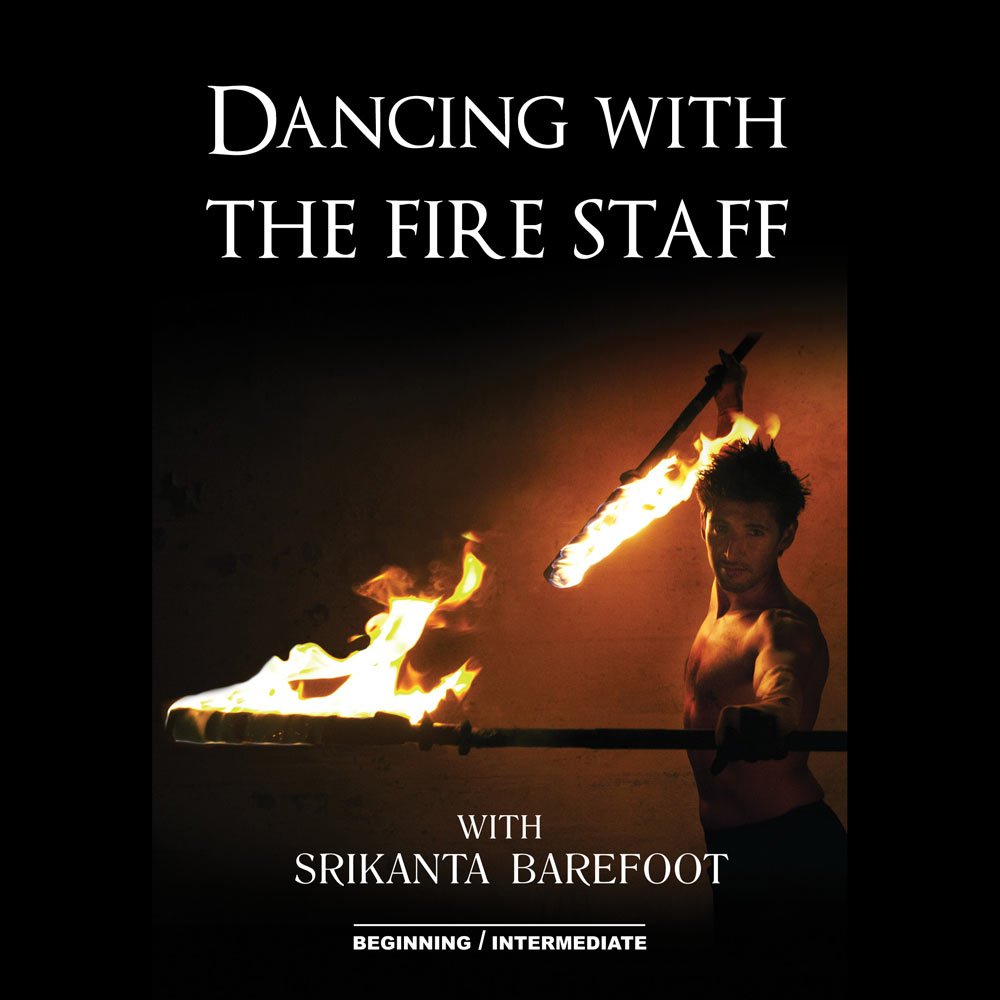 Learn to fire dance with ex Cirque du Soleil Fire Dancer Srikanta Barefoot. Over 165 minutes of video! Instruction, inspiration and fun! Learn More…
5% DISCOUNT ON PYROTERRA LIGHTTOYS: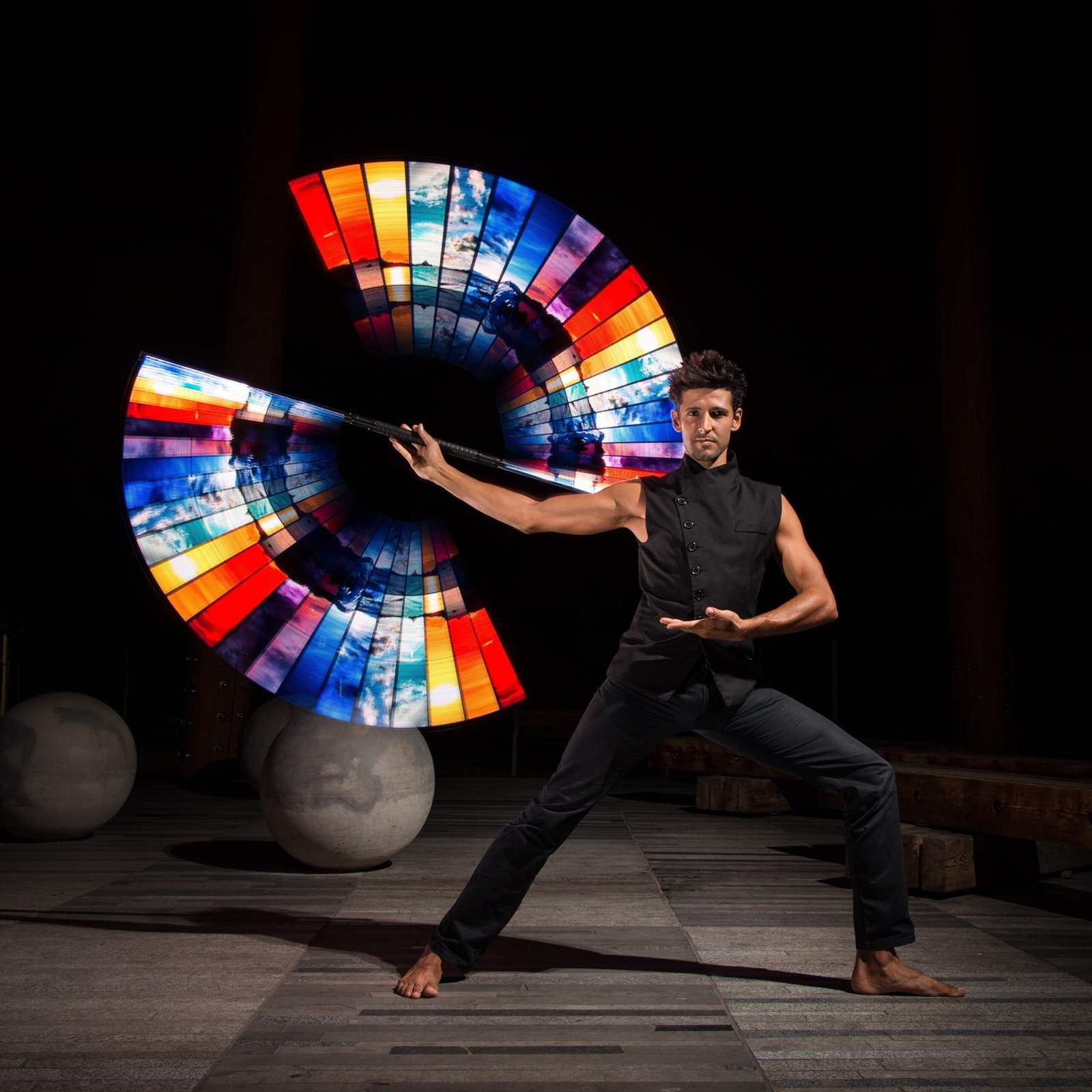 We highly recommend Lighttoys LED Props & Visual Poi. For a 5% discount, visit the Lighttoys website & use our lighttoys promo code: fusionartsandlighttoysrullezz
Examples of contemporary fire dance
Dancing with the Fire Staff
In this instructional video series on Dancing with the Fire Staff, ex Cirque du Soleil fire dancer & fire dance coach Srikanta Barefoot teaches techniques for combining dance & staff manipulation.  The series includes a choreography section which encourages students to focus on other dance & theater concepts like musicality & stage presence.
From 2015 to 2016, Fusion Arts trained two contemporary dancers to manipulate poi, staff, swords, etc.  The project was presented at Fusion Arts' annual Fire Dance Retreat in the summer of 2016.
Feel Good Fire Dance 2009
In 2009, Cirque du Soleil Fire Performer Srikanta Barefoot created this video which combines dance techniques with poi, staff & swords.  Filmed in Macau and on the stage of ZAIA, it was one of the first contemporary fire dance videos to appear.
Srikanta was the first contemporary fire dancer featured by the Cirque du Soleil performing over 700 shows from 2008 to 2010.
FEBRUARY 19-25 2023
POI, STAFF & THE FUNDAMENTALS OF CONTEMPORARY FIRE DANCE
Jen & Srikanta Barefoot Duo 2012
In 2012 Jen & Srikanta Barefoot published some of the contemporary fire dance choreography they had been working on together.  Jen has a background in both ballet and contemporary dance.  Srikanta has a background in circus, theater and contemporary dance.  The two began creating contemporary fire dance choreography together in 2009 and continue to create Fusion Arts Fire Shows & LED shows together to this day.
Solo Fire Dance Act 2015-2018
This video features footage of contemporary fire dancer Srikanta Barefoot.  The video highlights the ex Cirque du Soleil Fire Dancers work with the fire staffs.
His solo fire dance act Dancing Fire features contemporary fire dance with the single staff, double staff, fore ropes, fire swords and pyro poi.  There are a couple of more recent clips of Srikanta's fire performance on the Fusion Arts Instagram account:
Single Fire Staff Performance by Srikanta
Double Fire Staff Performance by Srikanta